Christmas is a time to get together and here at Stix2, we love uniting with fellow craft-lovers to share festive makes, tips and ideas!
---
This past few weeks have been very busy for our wonderfully talented Stix2 Demonstrators Michelle Johnson and Elaine Mellor. They have travelled all over the country to spread some Stix2 Christmas cheer and creativity in the past few weeks and we just had to tell you all about their adventures!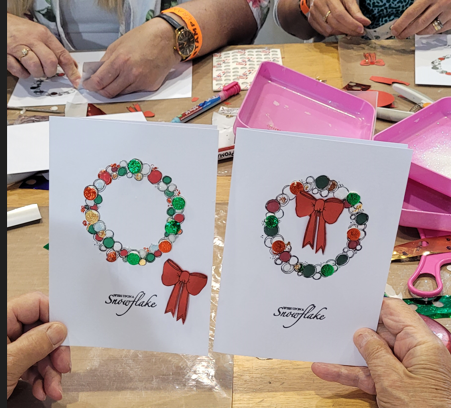 ---
The first event on our Christmas Craft Tour saw Michelle travel to Bedford for a fun filled Sunday at Stamperama! There was an abundance of talent and attendees, who enjoyed taking part in Michelle's Bauble Wreath Christmas Card Demonstrations.
Some of Michelle's top products for this project have to be the Stix2 2 in 1 Glue Pen – perfect for precision glue application! The glue dries clean but when first applied is blue. This allows for total accuracy when applying the adhesive – super handy when creating micro baubles!
The Stix2 Pick Up Pencil is also a top pick – ideal for adding tiny details mini designs.
Fancy having a go at creating your own bauble wreath card? – Grab the Stamp Addicts Bauble Stamp and create your own wonderful wreath holiday card!
---
There was something for everyone who attended October's Stamperama, with over 20 Exhibitors on hand!
AR Design & Crafts showcased their beautiful customermised gifts. Honey Doo Crafts and Stamp Addicts hand plenty of Stamp sets and accessories to help kick start your Christmas designs.
As well as the marvellous Michelle, there were tones of Make & Take events running through the day, including Nice Crafting and Let's Create.
Next up on the Christmas Craft Events, The Craft Room with Elaine!