You
I'm a Stix2 demonstrator and freelance craft tutor living in 'not as flat as you think' East Anglia, where we have several very good independent craft shops.
How you started
That's all thanks to my Mum, her ability and encouragement to try anything creative.  I love to find as many uses for things as possible, to mend and recycle where I can.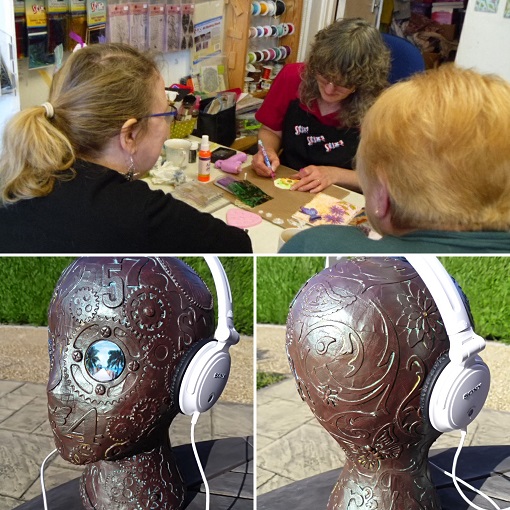 Favourite project
A papier mache head, decorated with die cut cereal box shapes and broken jewelry stuck on with hot glue, painted and waxed.  A handy stand for headphones.
Favourite tool/product
The Stix2 2in1 glue pen and Transfer Foils – write, draw or stamp something with the glue and foil it, no need to buy an expensive machine. Mounting Foam – now I have a stamp platform I'm re-mounting my old rubber stamps to fit the press and using the redundant wooden blocks for altered art.
Can't live without
A non-stick crafting sheet, heat resistant and so easy to clean makes it a MUST have.
Inspiration
This comes from everything, anything and anyone. Other crafters are a mine of inspiration, whether it's my local group or a well known blogger. Also look at things with a view to what else could you make from it, an empty malt drink plastic pot makes a great child safe night light with an LED tea light inside.
Visit www.stix2.co.uk to follow Rushanne when she is demonstrating.
For further information on Stix2 products please contact us on the details below.
T: 0191 2697810
E: sales@stix2.co.uk